Special Offers

Discounted Brisbane Blinds
Woodlook Venetian Blinds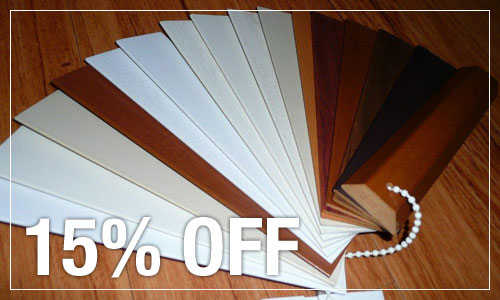 5 FABULOUS NEW COLOURS / PRINTS
(Now with TRAPAZOID BOTTOM RAIL)
Printed colours give the impression of woodgrain or marble (10% surcharge).
Benefits / Features:
5 Fabulous new colours
Choice of 50mm or 63mm blades in texturd or smooth finish
Optional hold downs for windy environments
Excellent product in areas that experience high humidity
Good for wet areas due to non porous surface ☼ Easy to clean
Consistent in colour with a timber look
Offers a beautiful colour range, from natural looking timber colours to cool crisp whites
Manufactured from a new compressed polystyrene formula (not plastic or PVC), a reinforced polystyrene exterior coating.
Easy maintenance!
Extensive product testing which includes: highest heat ratings on the market, tested to 75 degrees against warping
Bow tested at 70 degrees
Complies with general building code requirements in Australia.
Resistant to fungal growth
90mm Deluxe Moulded Pelmet
Aluminium Headbox System that will not rust
Headbox and components are guaranteed for 5 years. 
is known as The Instyle Blinds WoodLook Collection
Also available in 89mm blades for Vertical Blinds.